Fake Flower Arrangements for Weddings - 

Can You Tell the Difference?
Fake flower arrangements for weddings happen a lot more than you might think these days. No longer are artificial flowers those hideous plastic things grandma used to use years and years ago. Due to the refinements in technology now most people can be easily fooled by the quality of todays top silk flowers. Click on any images below here to learn more about them.

In fact, I bet you would probably never even know the difference If you were looking at wedding pictures of most couples ceremonies after the fact as to whether or not they used real flowers or artificial flowers. Only the wedding couple knows if the bride used real flowers or silk flowers for her bouquet. They are just that good.  :~) Really, the quality of fake flower arrangements has so improved, leaps and bounds even, over the ugly quality artificial flowers that were the only choices available even as close back as 20 years or so. 

Irises (my personal favorite), Calla Lilys, Peonies, Orchids, Magnolias, Roses and more! You also have loads of variety to choose from and no matter what breathtaking species of flower is your favorite, I am pretty sure that there is a wonderful silk artificial flower counterpart out there for it that looks almost every bit as good as the real thing - but never needs to be watered, nurtured or planted! 
Why Use Fake Flower Arrangements?
And as far as fake flower arrangements for weddings goes, the wide variety available gives you many more options to choose from. You are probably wondering just how good these silk flowers stack up against the real competition - meaning real flower blossoms. Keep in mind, quality can vary in these too, just as in any other product you might buy such as a backpack or a t-shirt or a used car.
There are nicer quality artificial flowers available and then there are not so nice ones that aren't nearly the high quality of the other ones, but they are both out there for you to choose from depending on your tastes, the level of quality that you will accept, what you are able to get locally and the cost you are willing to pay. But as far as realism goes, many of the top quality silk plants are super hard to distinguish between when compared to real plants - especially to the non-florist types among us.

The silk flower manufacturers are paying more and more attention to fine details in blossom species making the use of these flowers more and more acceptable all over, even in wedding ceremonies, by brides that are in the know. When comparing pros and cons there are so many more pros when it comes to a bride thinking about choosing silk flowers as a part of her big event that we really suggest you at least check out the fake flower arrangements for weddings that are in your area - stems, bushes, blooms, greenery and more. How about using ivory, or some other color, kissing balls for chairs, pews or as other kinds of decorations at your upcoming event?
Besides being so lovely, silk flowers or other types of artificial plants have no scent to cause allergy attacks, they are super durable compared to the real thing so they can last for years and they can be prepared months in advance of the actual wedding ceremony potentially saving you loads of time and money!

Other pros to be aware of concerning fake flower arrangements for weddings is that silk flowers or any kind of "fake flower" arrangements don't wilt or lose petals if you forget to water them or if you buy them out of season and forget to take care of them properly. Also, you will have lasting mementos forever of your silk flower arrangements. And if you choose to use silk flowers or any fake options for your wedding, no matter what season it is, you can choose any flower that you want. As far as real flowers go, if you choose to use a flower that is out of season for your wedding it may be super hard to find, almost impossible to get the quantity that you need, and super expensive to buy!

So what are some cons of using fake flower arrangements for weddings? One con for sure is that if you choose to use a certain type of silk flower in your ceremony, such as Ranunculus for example which is more of a cool winter and springtime variety flower, and Ranunculus flowers are in season, then you really won't be saving any money since the in-season flowers will be cheaper. Also, if you don't have a really good photographer you may not be pleased in how your silk flowers look in your photos so make sure you choose the best silk plants that you can afford budget-wise. 

Lots of brides today are choosing fake flower arrangements made of silk flowers especially when it comes to their wedding bouquets or the bridesmaids bouquets. Mainly because they can use almost any flower they want in any season, no matter if the real flower is available at that time or the year or not, plus it is almost impossible to tell the difference in many cases. Some brides even choose large kissing balls to be their bouquets because they are simple and elegant.
Plus, now she can keep her wedding bouquet forever if she wants to or pass it down as an heirloom to her daughter to use when she gets married in the future. And the bride will not have to worry about paying to have a fresh flower bouquet preserved which can easily cost $300 or so. So in this case, since a silk wedding bouquet will probably be far less in price already, it makes it a much better buying decision for your money don't you agree?

And if you want to, fake flower arrangements for weddings can be used easily for all your small needs such as boutonnieres, hair pieces, flower courages and the like if you choose. But they also make wonderful larger pieces as well such as dramatic centerpieces  for the church, or other venue you are getting married in, aisle runners, rose petals for the flower girl, alter arrangements, table arrangements, the tossing bouquet and more. Large, small or somewhere in between, lovely silk flowers can be a wonderful choice for your wedding.

And remember, these can all be used over and over since they don't die! And even if you choose arrangements that obviously do not look like real flowers, that is also your choice depending on the look and theme you are are going for. Maybe you like the look of feathers or some other materials - it is all your choice. Even if you're looking for a rhinestones and crystals covered wedding bouquet, we've got you covered!
Do you want one more idea for all these wonderful fake flower arrangements after your wedding (if you don't want to keep them all yourself)? Why not give them out at the end of the ceremony to loved ones you know that will cherish them? In that respect they will have a wonderful keepsake of your special day and you won't have boxes and boxes of beautiful flowers just sitting out in your garage or closet collecting dust.
---
An up and comer in the artificial flower world we recently became aware of that are used at weddings a lot here lately are paper flowers. Yes, you read that right - flowers made of paper. Well, not just any old paper because that would probably look pretty sad and pitiful, but these arrangements are made out of German crepe papers. So if you have a Cricut or some other kind of cutting machine you can use it to cut out various designs. Or better yet, you could buy ready made kits with all the materials already inside. This is my suggestion - just get the kit!
Best of all, the kits below include the materials, plans and even video tutorials! These are all made by:
Felt Paper Scissors - Craft Materials and Tools Shop
and they are nothing short of beautiful! So if you are a crafty person and love new challenges, here you go, LOL. I will list my favorite 3 wedding bouquet kits below for you to check out at your convenience. Just click on any picture to learn more about these fake flower arrangements.
---
One more option for you that we have come to love are fake flower arrangements made of the shola plant, also called Indian cork. It is a very eco-friendly wood type option that you probably have never even heard about. It is very light in color, lightweight and often used by many artisans and craftsmen in Bengal to create lovely and intensely intricate works of art. Wedding bouquets, boutonnieres, corsages and other kinds of wedding flowers made from this material are all hand made, one of a kind and quite lovely.
They can also be dyed several colors to make them look more realistic but the original white color is also very beautiful if you are looking for a more monochromatic type look. They can be easily combined with other greenery, baby's breath and more to create a very full arrangement. If you are a craftsy type, or know someone who is, then you can do no better than these exotic and lovely handmade flowers from Sola Wood. They offer many kinds of wedding kits that you should definitely check out!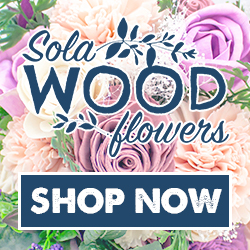 No matter what you choose, just remember that the flowers you choose are only one small part of your special day. So it doesn't necessarily matter if they are real - or not - just that you are happy with whatever it is that you choose! Your flower arrangements for weddings, whether you choose silk flowers or real wedding flowers, are all there for decoration and ambience and can help make your wedding day even more special, or they can cause you loads of stress and anxiety, so choose wisely when making your decision on whether to use real flowers or silk flowers at your wedding ceremony. 

Either way, no matter what you choose - fake or real - this is only one decision in a long line of things that you will choose for your wedding. Do your research, make your best choice and then let your florist or flower person take care of the rest for you as you go on to the next big decision. Remember, fake flower arrangements for weddings can also be combined with real flowers to create an entirely new and one of a kind arrangement, bouquet or wedding decor piece that no one else in the world has. The most important thing for you now is to remember to enjoy your wedding day when it happens and revel in all the decisions you have made for this day to make it a super fabulous day that you will never forget - filled with people you love, beautiful flowers, yummy cake, fun drinks and a new spouse to boot.